July 26, 2014
The Nomination
A couple of weeks ago, we received a nomination for the Liebster Award by The Life Nomadik, a super fun loving family aboard a 38′ catamaran down in the Caribbean!  These guys are one of my favorite cruising families out there! They're adventurous, spontaneous, brave, and really know how to spin it all into a great story! The first post I ever came across by them had me on the edge of my seat! I've been hooked ever since.  Waters of Chaos is a post worth reading if you want a proper introduction to this crazy family afloat on the big blue sea! Thank you so much for the nomination of this prestigious award!  We are truly honored to have landed a place in your blog and to have you share in our journey as we prepare to launch into the world of cruising ourselves!  We only hope that we can keep our readers half as entertained as you do!
The Liebster Award
Somewhere along the way, someone out there on the worldwide web had the genius idea to start "The  Liebster Award", which is nothing more than a way to discover, connect, and promote bloggers and blogs, but it is truly an honor to be a recipient of such an award. That means someone out there thinks we're good enough to suggest that their readers check us out!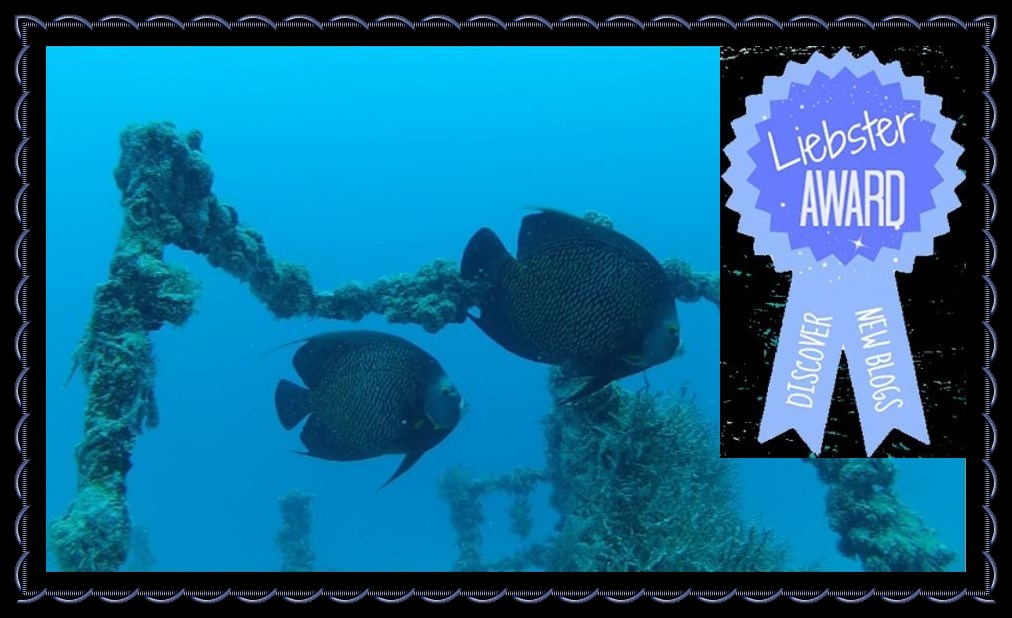 A little background for you, the word "Liebster" actually has German roots and translates to many positive English adjectives such as dearest, sweetest, kindest, nicest, beloved, and lovely to name a few.  I happen to have a real live German sitting next to me and Dieter says the word is usually used when a woman refers to her boyfriend/husband.  It's reserved for referring to a masculine figure.  Another word with similar meaning that could be used referring to it as feminine or masculine is "Liebling".
The Criteria For Accepting The Award
"The Rules"
It's really as simple as 1 2 3! And 4

1. Give thanks and backlinks to the blogger who nominated you.
2. Answer 10 questions.
3. Nominate 5-10 blogs for the award.
4. Ask them 10 questions.
Getting To Know Us at Diving Into Cruising
"The Answers"
1. Introduce us to your liveaboard family, how many in your crew and how old are they?
We're a crew of 4, two adults, one teenager, and an old man, our dog Chase.  We're all on slightly different paths so the final crew that will move aboard in a couple years is still undetermined.  It'll without a doubt be Dieter and I and depending on how far Brady feels the need to spread his wings when he finishes high school, he may join us too.  Chase is getting old fast and sadly may not make it to splashdown, but we're doing everything we can to keep him young and able!
Read more about Dieter and Britton here…
Read more about Brady here…
2. What sort of boat do you have and would you recommend it for other families hoping to live aboard?
We have a 1968 40′ Newporter Ketch that is currently undergoing a complete restoration, repairing rotten wood and reglassing the entire boat.  It'll be the most beautiful boat on the water when we finish, but would I recommend anyone take on such a project without first having their sanity checked?  No way!  It's a major drain on time and money, so make sure to take that into consideration when you fall head over heels in love with that boat that "just needs a little work".
Read more about our boat here…
3. Where are you now and what are your sailing plans, if you have any, for the future?
Right now, we are still land based in Palm Coast, Florida.  We'll be here until Brady finishes high school in 2016 and then our plan is to have completed the restoration and move aboard, ready to go where the wind takes us!  The possibilities are endless at the moment.
4. How do you support yourself and your family while sailing and cruising? How do you pay for the whole thing?
Play your cards right and the stock market can allow you to work as flexibly as you like, trading only when you need to stockpile more cash or trading on a regular basis.  We are both what you would call "swing traders".  We don't necessarily classify ourselves as day traders, although sometimes it works out that way too. The key is to watch a few stocks you like, get in low and get out high. Don't get greedy. "Bulls make money, bears make money, pigs get slaughtered!" It's a lesson we've had to learn the hard way…
5. What's the best learning experience your kids have had since living aboard that you could pass on to other sailing families for them and their children?
Well, since we aren't living aboard yet, I'll have to relate this question to what we've learned from life in general.  I would say the best learning experience Brady has picked up on in life is to be true to himself and chase his dreams ambitiously.  He's learned throughout life that happiness is taking life one day at a time and he's learning to appreciate the little things that make it special. Surf, sand, sun, waves, fresh air, and his latest infatuations (his truck and girls) are what motivates him.
6. What style of education do you prefer for your littlest crew members, are you homeschooling/world schooling/unschooling…? Have they ever been or will they ever go to a traditional school?
Brady has been in a traditional public school his whole life and is entering the 11th Grade this year.  During his Kindergarten through 5th Grade years, I was an Elementary School Teacher at his school and it was great being that close to him in those primary years. As the education system began to focus more on standardized testing and less on the whole learning experience, I really began to question it.  I believe in a holistic learning approach, one that encompasses the body, mind, and spirit and I believe that with the right commitment and structure, that can be better achieved by exposing children to real world experiences rather than leaving them to the classroom and school system alone.
That being said, Dieter feels that the structure of the school system is important to a child's upbringing.  He believes the social environment in school is hard to replace and that homeschooled children are more likely to lack development of social skills as they miss out on the opportunities for involvement in social activities that public school allows.
Needless to say, we disagree on this subject, but I do think it depends on the child and what they want should be taken into consideration.  Brady thought for awhile that he would like to travel the world while we homeschooled him, but he teetered back and forth on it too much and in his case, I could see where he truly did enjoy the social environment in school.  He enjoys sports, he has a good circle of friends and he was coming into his teenage years before we were in a position to set sail, so we decided to wait until he finishes school before departing.  It's important for him to have room to grow and develop and make his own choices rather than be forced into a lifestyle that leaves little room to change.  If we'd started planning for this dream to take shape before he knew anything different, while he was just a wee little child, it could have been an entirely different story, but this life is not just ours.  His upbringing is top priority and we have to give consideration to what he wants.  Our time will come…
7. Is living aboard and sailing an alternative way of life for you and your family, an escape from the system, or is it just a temporary adventure?
I like to think of it as a mid-life awakening!  There was a time in my life when everything just became too much. I had been a very driven, very focused person for too many years and one day realized I was living up to the expectations of too many people without really enjoying the simple things in life.  When I met Dieter, I warned him that at that point in my life, all I really wanted to do was buy a sailboat and sail away.  His response sealed the deal! "I'll be your first mate!"  We started planning, started downsizing, started paying back all our debts and working to separate ourselves from the consumeristic lifestyle that much of the world falls victim to.  The only thing that has changed is that Dieter's no longer willing to accept the role of "First Mate".  The two of us compete for the role of "Captain" on a daily basis!
8. Name the most challenging experience you have had whilst living aboard and what did you do to overcome it?
Again, since we are not living aboard yet, I'll have to relate this to life in general as we've started the transition. 
This is a hard one… I can't say that anything has ever really been all that challenging for all of us.  By far, taking on this restoration has been the most challenging on Dieter and I and to overcome that, we have to keep our eye on the prize.  We have to take things one day, one little task at a time and not let the entire project overwhelm us.
For Brady, I think it's been learning to stand on his own, as his own person, and make it through life knowing he has to be true to himself and not bare the burden of other people's wants and desires.  That's a deep statement, I know, but it's one that's held true for many scenarios in his life and I think he's always figured it out by following his heart.
9. Any big mistakes you have learned from that others may learn from too?
Where do I start?  Taking on a boat restoration with the limited time and resources available to us was not the brightest move we ever made. I am to blame for that as I drug Dieter into it kicking and screaming, while he tried to warn me this boat needed a lot more work than what I had in mind.  I let emotions get in the way. I fell in love with a boat and made up my mind before we'd even inspected it fully, so when the moisture meter was going off all around the boat, I of course jumped on the side of the broker when he dismissed it as "certain paints send off bogus signals".
But, can I call that a mistake? Right now, in the thick of the restoration and battling against bad weather for time to work on it, it's definitely up for consideration. But, would I change anything if I could go back?  What can I say? True love is true love and it requires dedication and commitment to see it through. I love our boat and I know she will be beautiful and well worth the blood, sweat, and tears put into her when we finish!
10. What motivates you to blog and what tips can you offer fellow yachty bloggers?
I'll be honest here. When I first started the blog, it was with the idea that we could make lots of money with Google AdSense, sponsors, and donations.  I'd never even read a blog before this and I always thought they were just like diaries or journals which I've never been a keeper of.  I soon found out that we were lucky to make enough money for a cup of coffee a day and the promises of making thousands of dollars blogging must be for the big guns or total BS.  I'm leaning toward the latter…
But during that discovery, this blog became something else entirely different to me. It did become a sort of diary or journal that I share with the world and I am flattered that anyone cares to read it.  It's a way for me to share our life creatively with others who share the dream of searching for something different, something more.  If we inspire even just one person, I'm glad to have shared it. For me and for my family, we have our adventures down on paper. This blog has become a sort of animated photo album where all the journeys and adventures we've sought are captured here on film for us to revisit anytime we like as we carry on through this life one day at a time.
If I have any advice for other yachty bloggers, it's do it only because you want to.  Be yourself, make it meaningful to you and you will come through to the world sharing real life experiences. Experiences, that if you're out searching the world for something more than the ordinary, will be inspiring for others to read about as well, just because that in itself is inspiring.  I think I can pinpoint the phase in my writing where my style shifted from what I thought would bring in lots of keywords and traffic to truly writing from the heart.  I actually cringe when I go back and reread some of my earlier writing.  I'm surprised any of our earlier readers stuck around!  
Write from the heart and be yourself. Let others get to know you. Share lots of pictures and video. It's what brings us back daily to check in with you and share in your adventure!
Our Nominees
Drumroll please!!!!!!!!!!!!!!! Dun da da daaaaaaaaaaaaaa………………
I've chosen the following blogs because they are truly some of the best entertainment on the web today and if you haven't heard of them yet, you should check them out.  I realize the Liebster Award is somewhat similar to a chain letter, so please, if any of you have already been recognized and had your day in the limelight, feel free to opt out

  I honestly enjoyed responding to the questions as it gave me something specific to share with the world rather than just an account of our latest adventure.
Where The Coconuts Grow  "In search of surf, sun, sand, and serenity"
This Rat Sailed  "Leaving the rat race for a life aboard a sailboat"
S.V. Delos  "Fun loving crew aboard a beautiful 53′ Amel"
Airabess  "One family's journey to 'There'"
Catchin' Rays  "Working Hard to be Lazy"
Knot Tide Down  "The journey of a couple who sells almost everything they own, buys a sailboat, and begins the adventure of their lives"
Gone Global  "Just out chasing waves and adventure!"
KewlChange  "Freedom - Pursuing the dream"
Zero To Cruising  "From total sailing newbies to live-aboard cruisers"
Follow The Horizon  "Follow your dream"
The Questions For Our Nominees
(Almost the same as our questions, but with a few differences)
1. Introduce us to your crew.  Who are they and what role do they play in your operation?
2. What sort of boat do you have and would you recommend it for other adventurers hoping to live aboard?
3. Where are you now and what are your sailing plans, if you have any, for the future?
4. How do you support your lifestyle while sailing and cruising? 
5. What's the best experience you've had while living aboard? 
6. Name the most challenging experience you have had while living aboard and what did you do to overcome it?
7. Is living aboard and sailing an alternative way of life for you, an escape from the system, or is it just a temporary adventure?
8. Any big mistakes you have learned from that others may learn from too?
9. What advice would you give to youngsters just finding their place in the world?  College, skill/trade, world travel on the graces of good luck?
10. What motivates you to blog and what tips can you offer fellow yachty bloggers?
Thank you for playing along. I look forward to each of your write-ups on your own blog!